Soft Washing vs. Pressure Washing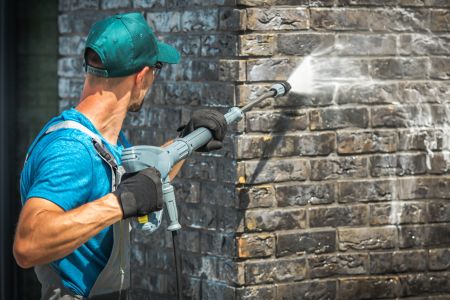 Cleaning your outdoor surfaces is an important part of your home maintenance project. But how do you get those surfaces clean? And is there a way to clean them without spending weeks on your cleaning projects?
The best option for outdoor surface cleaning is professional pressure washing. But not all surfaces can stand up to the high powered water spray used in pressure washing. That's why the soft washing experts at Gulf Softwash LLC are here to explain the differences between soft washing and pressure washing so you know which cleaning option is best for your property.
To invest in a professional soft washing or pressure washing service, call the experts at Gulf Softwash LLC today at 228-369-9363 and set up an appointment today.
Soft Washing
Soft washing is a great, low-pressure cleaning option for your more fragile outdoor surfaces. If you aren't sure if your outdoor surfaces can stand up to the high powered water sprays used in pressure washing, soft washing is a great alternative.
The soft washing cleaning process utilizes biodegradable cleaners and a gentle water-bleach mixture to break down mold, mildew, and bacteria on your surfaces. This cleaning process gets into all the smallest nooks and crannies on your surfaces to clean away even the smallest contaminants.
Soft washing is the perfect cleaning option for:
Roof Cleaning
House Washing
Deck Washing
Our soft washing service is safe for shingles, siding, and softwoods. The low-pressure cleaning ensures your outdoor surfaces aren't in any danger of cracking or breaking. No matter what cleaning project you have in mind, a soft washing expert can help decide which cleaning option is perfect for that surface.
Pressure Washing
Pressure washing is the high pressure cleaning alternative to soft washing. Stronger outdoor surfaces are perfect for pressure washing. If you have surfaces made up of concrete, brick, stone, or hardwood, pressure washing is perfect for you.
While pressure washing still utilizes biodegradable cleaners, the difference between pressure washing and soft washing is that pressure washing uses higher water pressures. This higher water pressure can blast away dirt and grime, even set in stains, so you know you're getting a thorough clean.
Pressure washing is perfect for:
Driveway Washing
Sidewalk Cleaning
Curb Cleaning
Patio & Porch Washing
The downside of pressure washing is that, if you use this cleaning process on more fragile surfaces, it can break or crack or even gouge your home surfaces. The most important part of choosing between pressure washing and soft washing is to ensure you're choosing the best choice for your property.
Hire a Professional
Soft washing and pressure washing professionals can help you choose the best cleaning options for your unique properties. The experts at Gulf Softwash LLC individually assess each cleaning project they work on to ensure you're getting the best clean available.