Prime Commercial Soft Washing For Your Biloxi Business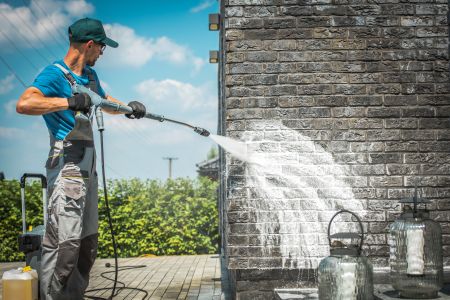 Are you looking for professional commercial soft washing for your Biloxi commercial properties? The experts of pressure washing in Biloxi at Gulf Softwash LLC offer premier commercial soft washing so you know your buildings are in the best hands.
Professional commercial soft washing utilizes biodegradable cleaners and a gentle water-bleach mixture to break down mold, mildew, and bacteria on the surface of your buildings. This cleaning process is perfect for keeping your building clean and maintained throughout the year.
The best part of our commercial soft washing is that our experts can finish your cleaning project in a few hours. Traditional cleaning processes take hours, even days to complete. They're also not as thorough.
The cleaners we use are applied as liquids that get deep into all the smallest nooks and crannies on your commercial building. The water-bleach mixture we use to wash away these cleaners ensures your properties are cleaned and sanitized.
Our commercial soft washing is perfect for all sorts of cleaning projects, whether you're looking for a building washing, roof cleaning, or another commercial cleaning project. Soft washing is great for outdoor surfaces and ensures that your property is kept protected throughout the cleaning process.
To learn more about commercial soft washing in Biloxi, call the pressure washing experts at Gulf Softwash LLC today at 228-369-9363 to set up an appointment.
Business Soft Washing
A clean building is one of your best advertisements. Pedestrians can easily become new customers if they see a building that's cleaned and maintained. Investing in business soft washing doesn't just ensure your building is clean, though.
Our experts wash away layers of dirt and grime. By cleaning these contaminants away, we ensure your building is kept maintained. Built-up dirt and grime can start to break down at the surface of your building. Ensuring your building is in great shape can help draw new customers to your business.
A clean building ensures that customers know your business cares about their customer experience. Investing in business soft washing helps encourage customers to trust your business.
To learn more about how business soft washing can benefit your commercial properties, call Gulf Softwash LLC today and speak to our experts.