Regular Driveway Washing For Your Biloxi Concrete Surfaces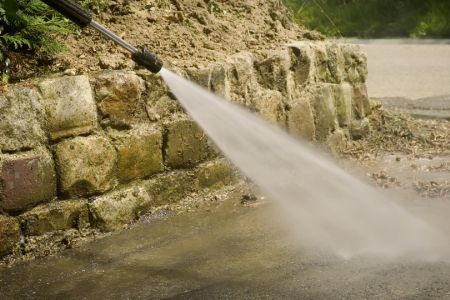 The pressure washing experts at Gulf Softwash LLC offer professional driveway washing for your home in Biloxi. We know that keeping your residential properties clean and clear is an important part of your home maintenance project.
Our experts offer premier pressure washing in the Biloxi area. Pressure washing is a great way to clean away built-up dirt and grime on your outdoor surfaces. Cleaning these contaminants away helps to protect your surfaces from damage. When it comes to your driveway, a professional cleaning can help protect against cracking and breaking.
The high-powered water spray used in pressure washing gets deep into the surface of your driveway to ensure even the smallest nooks and crannies are kept clean. We also use biodegradable cleaners to break down any invisible contaminants before they become a problem.
Pressure washing experts recommend professional driveway washing at least once a year. However, waiting 12 months isn't always possible. If you've noticed discoloration on your driveway or have spilled automotive fluids, it's time to call in the experts.
Automotive fluids are some of the most degrading that will find their way onto your driveway. These fluids eat away at the structure of your driveway and often contribute to cracking and breaking. Our experts utilize specialized biodegradable cleaners to break down dangerous stains and leave your driveway clean and protected.
If you're looking for a complete clean for your residential properties, you can pair our driveway washing with a curb cleaning, sidewalk cleaning, patio and porch washing. This ensures that your entire residential property is kept clean and clear.
To learn more about how a professional driveway washing can benefit your home in Biloxi, call the pressure washing pros at Gulf Softwash LLC today at 228-369-9363.
Concrete Cleaning
Keeping your concrete cleaned and maintained is one of the best ways to protect your outdoor surfaces from cracking or breaking. Concrete is a porous material. Small contaminants that find their way into these pores need to be cleaned away before they start damaging your surfaces. However, most traditional cleaning options don't get deep enough into concrete surfaces to wash away these contaminants.
Pressure washing is uniquely suited for concrete because the high-powered water sprays get deep into your concrete surfaces and blast away even the smallest contaminants. Just as important, our cleaning process can help ensure that existing cracks in your concrete don't expand over time.
To learn more about how a concrete cleaning can benefit your home, call the experts at Gulf Softwash LLC today and speak to our experts.